October 4th, 2016
Seborga, Italy
After another leisurely breakfast, Los Three Amigos headed back to take in La Turie and Eze, which would hopefully be open on this non-Monday day of the week.  And they were.  
La Turbie was at first a little boring until you realized how difficult it must have been to reconstruct.  A monument to Roman conquest in the area, it was used for several other purposes over the years.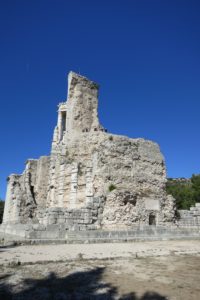 We bought lunch at a little boulangerie in the pleasant village of La Turbie and ate it at a nearby park overlooking Monaco.  A nearby cafe advertised the daily dish was "faux filet" which sounded a bit odd though later googling showed that to be something like a sirloin.
Next off to Eze, which was a lot more touristy, but very cool.  Lots of narrow winding paths leading up to the Jardin Exotique, which was mostly cactus based.  John got so parched that he drank from what we suspect may have once been a public urinal.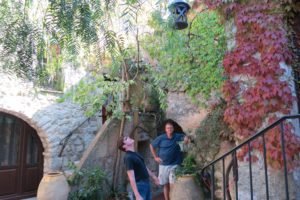 I should mention here that Mike once again got into an altercation with security personnel when he tried to enter the patio area of a private hotel.  What with his disregard for authority, we'll likely have to bail him out of jail before week's end.
There were also unexpected security precautions.  For Tom & Jack:  From this sign, maybe the rule applies only to Octocopters?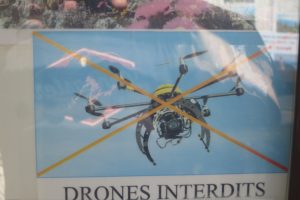 We next decamped to Roquebrune.  I used my new Project Fi phone to access Google Maps navigation which did a fine job of getting us there with only a slight detour that was definitely not my fault and any naysayers claiming otherwise should be ignored.
It was another small fortress just east of Monaco which didn't hold much promise from the outside, but again lead to very narrow and beautiful streets that gave way to the fortress above, though not commercialized and touristy like Eze.
And a gorgeous view back west toward Monaco.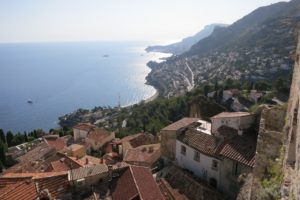 And, of course, the 12th Century ruler who originally built the fortress was not only keenly interested in public safety, but also had strict rules regarding feng shui.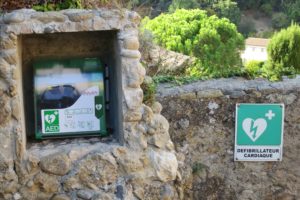 After a late afternoon bier at the apartment (and a chance to rest our old man legs which were getting sore from all the walking up steep streets), we dashed off to Dolcedo, a place John's family had stayed some years ago.  While not super gorgeous, it was a pretty, sleepy, very pleasant little place with a restaurant that had excellent pizza.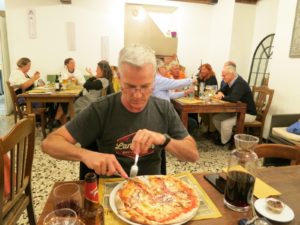 Lastly, it is only fair to note that Mike and John sang there own made up versions of a dumb song from Birdemic all day long.  It was pretty much nonstop and became sort of a narrative for the day.  Oh, how I do suffer at times.