October 5th, 2016
San Remo, Italy
Again the day began as usual, with breakfast at the apartment, lazing around with no real plan and good natured bickering.
On a perfectly beautiful day we wandered east to the picturesque little coastal town of San Remo where we continued the habit of finding a place with baked goods and coffee for Second Breakfast. Let John's obsession with European baked goods never be underestimated. (Truth be told, I come in a close second.)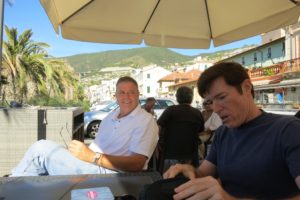 I continued my masterful navigation and got us to a Carefour market to restock the apartment larder and John spotted a place for kebobs and went kind of crazy about it. The plan then became getting hot food at the kebob place and returning to the apartment for more bad movies. Except that kebobs are not kebobs. They are gyros. No bad, but why would you call them kebobs?
I should note that John picked out the eggs at Carefour and, when I translated the various egg categories on the carton, found that he had bought eggs from caged hens. Unbelievable. He could have at least bought the next category up, which Google translated as "ashore." Never trust John to buy eggs.
Back at the apartment John all but purred over his "kebob" sandwiches and we watched Birdemic 2 and Dondi. Birdemic 2 was arguably not quite as bad as the first, mostly because some of the special effects were not quite as bad, but it was still laughably horrible. Dondi was a movie from the Golden Turkey Awards book that we had been looking forward to for decades, only recently available. It was not laughably bad. It was just bad. The acting of the child star was as bad as promised in the Turkey Book, but the dripping sweetness of the whole thing was nauseating.
We then wandered into Seborga and walked around checking the place out. A small, pleasant little village in the hills above the ocean. A few restaurants, a shop or two, and a single tiny market. We had dinner at a nice looking restaurant where we were entertained by an American mother and daughter who were very friendly, if rather drunk. On the walk back to the apartment we were asked by a friendly German couple who we preferred, Clinton or Trump. We unanimously refused to endorse either, as they are both revolting and hideous.
After dinner we watched Sharknado 3 which just as awesome as expected. I hope it's not too much of a spoiler to say "Sharks in space!"